Bojangles is a chain of fast food restaurants in the Southeastern region of the United States, based in Charlotte, North Carolina. There are currently 600 of these restaurants, which specialize in Cajun cuisine, specifically fried chicken and buttermilk biscuits. Founded in 1977, Bojangles is one of the largest fast food restaurant chains in this area of the country.
Below are the latest Bojangles catering menu prices.
Food
Cost

Bojangles Catering Menu

Party Platters

100 Buffalo Wings
$54.99
50 Buffalo Wings
$28.99
25 Chicken Supremes & 50 Buffalo Wings
$53.99
50 Chicken Supremo Platter
$51.99
25 Chicken Supremes & 50 Buffalo Wings
$53.99
25 Chicken Supremes & Roasted Chicken Bites
$50.99
Roasted Chicken Bite Platter
$49.99
25 Chicken Supremes & Roasted Chicken Bites
$50.99
30 Whole Wing Platter
$39.99
One Dozen Mini Boberry Biscuits
$4.59
One Dozen Mini Country Ham Biscuits
$8.99

Feed A Group

100 People
$500.00
50 People
$250.00

Box Meals

Sandwich Only
$4.19
One Dozen Sandwiches
49.99
Sandwich, Chip, & Cookie
$5.00
Sandwich, Fixin', Chips, & Cookie
$6.50
Sandwich, Apple, Chips, & Cookie
$6.50
Garden Salad
$3.59
Chicken Supreme Salad
$5.15
Homestyle Tender Salad
$5.15
Grilled Chicken Salad
$5.15
Picnic Fixin's
$3.19

Breakfast Biscuits

Big Bo Breakfast
$39.99
One Dozen Plain Biscuit
$6.99
One Dozen Sausage Biscuits
$12.00
One Dozen Bacon, Egg, & Cheese Biscuits
$30.99
One Dozen Steak Biscuits
$26.99
One Dozen Country Ham Biscuits
$26.99
One Dozen Cajun Filet Biscuits
$37.99
Boberry Biscuits (Individual)
$0.99
Boberry Biscuits (One Dozen)
$7.99
Cinnamon Pecan Twist (Individual)
$0.99
Cinnamon Pecan Twist (One Dozen)
$9.99
Sweet Potato Pie
$1.29

Family Meals

8pc. Tailgate
$19.99
12pc. Super Tailgate
$28.99
20pc. Jumbo Tailgate
$39.99
Family Variety Feast
$29.99

Beverages

Legendary Iced Tea (Half Gallon)
$2.49
Legendary Iced Tea (5 Gallons)
$20.99
BoJo To Go (Coffee 96oz. Box)
$10.99
Pepsi Products (12oz. Cans)
$1.50
Pepsi Products (20oz. Bottle)
$2.00

To Place An Order Call 1-800-366-9921 (EXT. 8653) or
Bojangles Menu Information
You will find that there are lots of different items on the Bojangles menu if you are currently planning a special event that you want catered. There is the 8 piece & 4 biscuits box, which is definitely one of the more popular items on their menu. The 12 piece & 6 biscuits box is a slightly larger version. There is the 20 piece & 12 biscuits box for those who are planning a larger event. Those who are looking for wings will be interested in the 12 Wings & 6 Biscuits Box. The 12 Piece Supreme Box is yet another option that you will have to choose from.
The 12 Piece Supremes Tailgate is another very popular item on the Bojangles menu, especially for catering. The 8 piece Tailgate Special is a smaller version. There is the 12 Piece Super Tailgate, which features 12 pieces of chicken, six scratch-made buttermilk biscuits, three picnic-sized fixins, and a ½ gallon of iced tea. There is the Family Variety Meal and the Family Variety Feast, depending on the size of the event that you need catered.
The 20 Piece Jumbo Tailgate meal features twenty pieces of Cajun fried chicken, twelve buttermilk biscuits, four picnic-sized fixins, and a full gallon of iced tea; it is priced at $39.99. The 12-Piece Wing Feast is yet another popular item on Bojangles' catering menu, and it consists of twelve chicken wings tossed in special seasonings, six buttermilk biscuits, two picnic-sized fixins, and ½ gallon of iced tea; it is priced at $26.99. The 8 Piece and 4 Biscuits Box consists of eight pieces of chicken and four buttermilk biscuits. It is important to keep in mind that while most of these meals come with iced tea or some other drink, not all of them do.
There is the 4-Piece Supremes Dinner, which consists of four pieces of boneless tenderloin filets as well as a buttermilk biscuit. It is important that you take the time to review as many of these catering menu options as possible so you will know exactly what you have to choose from. Bojangles restaurants offer a wide variety of items on their menus, both catering and regular. The catering items are priced reasonably, making them affordable for most people who are planning an event of some kind. The more time you take to look over this menu, the better of an idea you will have about your options.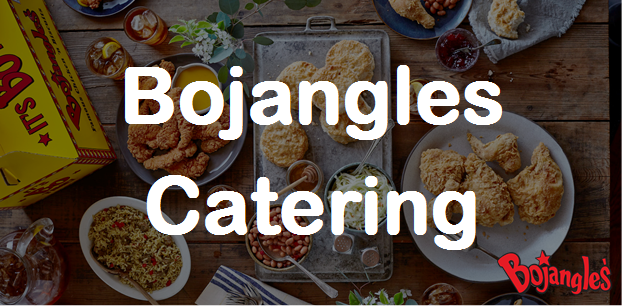 Finding the Nearest Bojangles Catering Location and Ordering
If you want to find a Bojangles restaurant in your area, you will need to first visit their website and click the "Locations" button at the top of the page along the main menu. Simply enter your city and state or zip code. Once you have done this you will see a list of the closest restaurants in your area.
Those who wish to place an order for catering at a Bojangles restaurant for an event they are planning will need to make a point of calling the restaurant ahead of time to place the order. It is important that you call far in advance so they have time to prepare the order for the event. These fast food restaurants do not currently offer online ordering.
For more information regarding Bojangles, please visit their official website. Check out our Blog for food tips and information.
Comments
comments