Costco
offers more than just affordable products for your home and office; the company also provides a wide selection of party solutions for the busy host. One of the most popular is Costco Deli Platters.
Take the fuss out of catering by ordering deli platters from Costco. Each deli platter has a wide selection of delicious and nutritious ingredients that are freshly prepared. Whether you are planning a party for ten or a hundred, you can be sure that Costco deli platters will serve you and your guests perfectly.
Costco Deli Platters Varieties
The Prawn Platter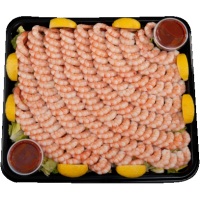 The prawn platter is a special deli platter from Costco which consists of 1.58 kg of delicious, freshly-cooked prawns. The platter of prawns is served with delicious dip and zesty lemon slices. Save time buying, preparing, cooking and serving prawns with this delicious platter that costs less than $50. Each prawn platter serves 8 guests; if you need to serve more, you may order as many platters as you need.
Assorted Hye Roller Platter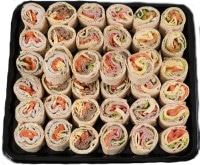 What if you want something different and something that looks extra special for your guests? The assorted hye roller platter from Costco is your best choice. This is a wonderful assorted platter that is made from beef and cheese, turkey and cheese, cheese and tomato and ham and cheese. Each platter is composed of 40 rolled bite-sized pieces that will serve 30 or more guests. The assorted hye roller platter is available for less than $40.
Chicken Wings Platter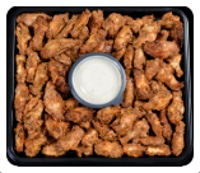 The chicken wings platter is perfect for any party. Fresh 3.00 kg chicken wings are served in Costco's chicken wings platter and this comes with a delicious cheese dip. A single kilo of chicken wings serves five guests and therefore a minimum order will make 15 guests happy and contented! This is a very affordable deli platter for less than $11. Watch your guests savor each chicken wing with relish; definitely one of the best deli platters to include in your next party.
Sandwich Platter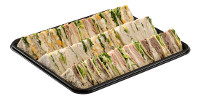 The sandwich platter is a wonderful serving of chicken mayo, egg mayo, roast beef and cheese and ham and cheese sandwiches. Ready to eat in bite-sized pieces, all your guests will have to do is to pick and eat! The sandwich platter comes in a convenient tray however you may also remove these from the tray and serve on decorative plates and servers. Each platter serves nine guests for less than $30. Forget preparing bite-sized sandwiches as refreshments, you will be able to do other important things for your party!
Ordering Costco Deli Platters
Ordering delicious Costco deli platters is simple. All you need to do is to visit Costco's official site and click on ordering. Click on the platter that you wish to order as well as the quantity of your order. After that, fill out all the information to process your order. If you are a Costco member then fill out your membership card number along with your name, email and contact number. You will also need to specify your pickup date, time and location. After completing the information sheet, submit your order.
You may also order via phone, simply select from the Costco locations listed on their website to find the local number of the nearest branch from your home or office. Visiting a Costco branch near you will also help you place your order easily.
Things to remember when you order Costco Deli Platters
Costco recommends that you order at least 48 hours before your party or event. This gives them enough time to prepare the ingredients, to ensure that the platters are of high quality and the order is completed and perfect for your party or occasion. Each platter is made fresh and therefore enough time to prepare is very important.
If you need to cancel your order, you should call your preferred location as soon as possible. For any changes to or questions about your orders, you should call Costco as soon as possible.
Costco offers a variety of deli platters instead of simply offering meat or seafood. Platters are fresh and nutritious and therefore are good for you. Each deli platter is also affordable and economical instead of preparing your own deli trays for your party.
Comments
comments