Krispy Kreme is known for going all out with its doughnuts every time a new season arrives. Everyone gets excited as to what new doughnuts Krispy Kreme has to offer as soon as the season changes, and Halloween is no exception. To get everyone in the mood for Halloween, new doughnut flavors have been unveiled and you can order these until October 31. Basically, Krispy Kreme has come up with 6 new Monster Doughnuts that you can order together with old favorites like the Pumpkin Doughnut and Spider Web Doughnut.
These doughnuts are here as a "unique and delicious way to celebrate Halloween," because from their colors and appearance alone, you already feel the season. Here are the Halloween doughnut options you can get from Krispy Kreme:
Monster Doughnut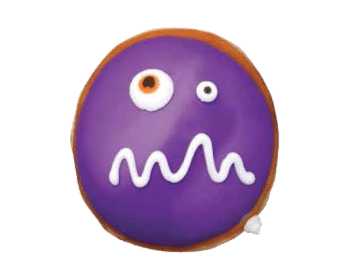 As the newest offering for this year, this kreme-filled doughnut comes in either of two icing colors: ghoulish green or electric purple. On top of these colors, 'monster faces' are then drawn to the doughnuts using white icing and sugar eyes, contributing to the festiveness of the season. The young and the young at heart will surely love these doughnuts and keep coming back for more.
Spider Web Doughnut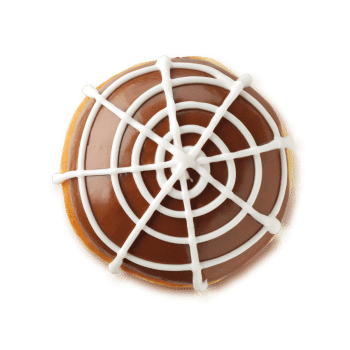 The Monster Doughnut is only a new addition to the Halloween doughnut lineup, which is most known for the wildly popular Spider Web Doughnut. Also kreme-filled, this doughnut comes topped with chocolate icing, and has a distinctive spider's web drawn using white icing. The doughnut does look like a spider's web, and it's one of the more popular seasonal doughnuts in the entire Krispy Kreme menu.
Pumpkin Doughnut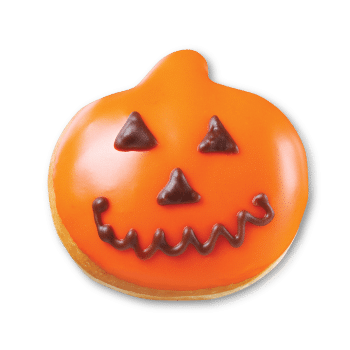 Because the Halloween season almost always gives restaurants the license to come up with anything 'pumpkin,' Krispy Kreme also has it's signature pumpkin doughnut. Shaped and colored like a pumpkin, this bright orange doughnut looks like a jack-o-lantern with the help of chocolate icing.
Halloween Sprinkle Doughnut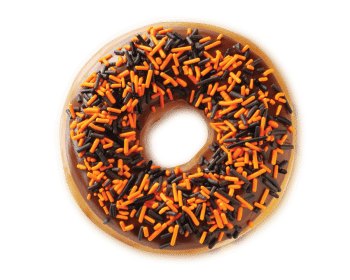 Another doughnut for the Halloween season is the Halloween Sprinkle Doughnut, which comes with orange and black sprinkles on top of chocolate icing.
Whether you get these for your Halloween party or you just simply want to feel the festive vibe of the season, these doughnuts will definitely get you in the mood. If you're not too keen on the Halloween flavors, you can still go for the new doughnuts in the Fall lineup, which includes the Pumpkin Spice Cake and the Salted Caramel Latte Doughnut. The classic Krispy Kreme doughnut flavors are also still available for those who want to rely on the tried and tested favorites.
These doughnuts will of course be even more delicious with coffee, and we're not talking about just brewed coffee here. The Halloween and Fall season has also brought about the return of favorites like the Pumpkin Spice Latte and the Salted Caramel Latte. Whether you want a hot cup of comfort or an iced version, the same available flavors will greet you and give you that distinctive taste of Fall.
Comments
comments