When people think of dinner they often think of big, warm meals that paints the evening's ambiance with a certain coziness and comfort. The next thought however is of dread because preparing dinner often takes a lot of time and effort, which is why people settle with eating out.
However, you don't have to confine your dinner meals to fast food chains or a recipe that takes a life time to cook. There are tasty thirty minute dinner recipes that don't take much effort or ingredients to deliver that much-aspired homeliness that only a home-cooked meal can offer. Here's a few below:
Barbecued Shrimp Served with Pecan Rice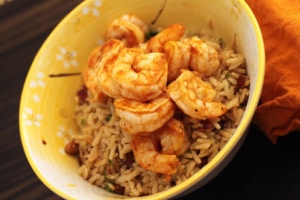 Ingredients:
(2) tsp. olive oil
(1) cup onion – chopped
(2)  cups white rice
(3) cups of chicken broth
(.5) cup pecans – chopped and toasted
(2) tbsp. parsley – chopped
(.5) cup steak sauce
(6) tbsp. cider vinegar
(6) tbsp. ketchup
(6) tbsp. brown sugar
(3) tbsp. bourbon
(2) tsp. hot pepper sauce
(2) lbs. medium shrimp – shelled and deveined
Directions:
Over medium heat, begin heating oil in a pan. Add in the onions and cook for 3minutes until they are tender brown. Add in the rice and cook for 3 minutes until it is golden. Lastly, add in the broth and let this come to a boil.
Cover this, lower the heat, and then let the broth evaporate until you get tender, golden rice. This will take roughly 20 minutes.
When ready, take it off the flames and then stir in the parsley and pecans for a few seconds.
In a separate bowl add in everything but the shrimp and blend them for a few seconds. Then add the shrimp to the mix and toss so you get evenly coated shrimp pieces. Grill them for 3 minutes to 5 minutes until you get both sides nice and even.
Add the shrimp on top of the rice and serve. This recipe is good for 4 servings in total.
Chicken and Broccoli Alfredo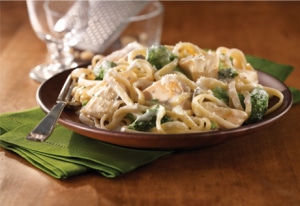 Ingredients:
(6) oz. fettuccine – uncooked
(2) cups broccoli – frozen and chopped
(10.75)  oz. cream of mushroom
(.5) cup milk
(.75) cup parmesan cheese – grated
(3) cups chicken – cooked and cubed
(.25) tsp. pepper
Directions:
Begin by preparing the fettuccine according to package instructions. This often involves boiling fettuccine for roughly 15 – 20 minutes.
During the last 5 minutes of the first step, add in the broccoli. Let it finish and then drain out the water.
Take a large skillet and place it over medium-heat flames. Mix the fettuccine-broccoli blend with the cream of mushroom, milk, cheese, chicken, and pepper.  Cook this for roughly 5 minutes.
Dish is good for 4 servings and is best when served hot with buttermilk biscuits.
Tex-Mex Lasagna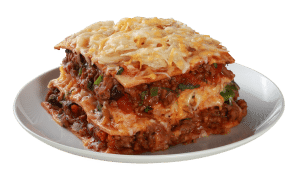 Ingredients:
(5) flour tortillas – 10 inch
(15) oz. tomato sauce
(15) oz. black beans – rinsed and drained
(1) cup whole kernel corn – frozen
(.5) cup green onions – chopped
(8) oz. four-cheese blend
Directions:
Begin by preheating the oven to 400 Degrees F. While doing this, prep a 3-quarts baking dish (rectangular) with your nonstick cooking spray. Set this aside for later.
Now take the tortillas and cut them into four quarters. After cutting, take 6 tortilla quarters and fill the bottom of the dish. Keep the cut sides of the tortillas against the edge of the baking dish.
Layer this with a third of the tomato sauce, cheese, onions, corn, and beans.
Repeat steps #2 and #3 two more times and then cover the whole baking dish with foil. Bake this initially for 20 minutes, remove the foil, and then continue to bake for an additional 3 minutes to melt the cheese.
This is good for 6 servings and is best with salsa and sour cream.
Comments
comments